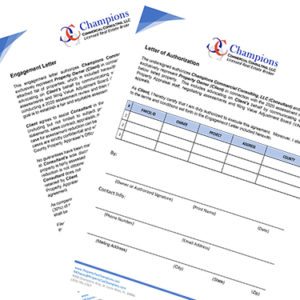 The Engagement Letter explains consultant's scope of work, party responsibilities, communications, and compensation arrangement. Compensation is a contingency fee … contingent upon the amount of property tax reduction. For example: if the property taxes were $50,000 and reduced to $40,000, this would be a $10,000 tax reduction. A 30% contingency fee would then calculate to $3,000 ($10,000 tax reduction X 30% contingency fee). If there is no reduction, there is no fee.
The LOA needs to be returned fully executed (authorized signature) and completed. This document officially engages Champions Commercial Consulting, LLC services and agrees to terms and conditions of engagement. For your convenience, many of the available fields in the LOA are fillable (PDF file). Once a fully completed LOA is received Champions Commercial Consulting, LLC will communicate with client to discuss strategies, timelines, and plans. Often times documents such as closing statements, sales contracts, marketing material, repair estimates, etc., will be requested as evidence for an assessment reduction.
Our goal is to develop long lasting partnerships. If you have any questions, please do not hesitate to contact me.